PLEASE CLICK TO DONATE TO OUR SITE!!!!
One Life to Live Top Ten List
Top Ten Overdue Video Rentals at the Llanview Video Store by Debbie
10. "The Terminator" -- rented by Todd Manning
9. "Gone with the Wind" – Blair Cramer
8. "The Omen" -- Starr Manning
7. "Aliens" -- Nora Hanen Gannon Buchanan
6. "Mommie Dearest" -- Lindsay Rappaport
5. "Shaft" -- Antonio Vega
4. "The Godfather Trilogy" -- Ben Davidson
3. "The Three Faces of Eve" -- Gina Russo
2. "Gentlemen Prefer Blondes" -- Melanie MacIver
And, the number one overdue video rental at the Llanview Video Store is:
1. "Weekend at Bernie's" -- Colin MacIver
Back to the Main OLTL Top Ten Lists Page
---
Buy Soap Magazines
Go here for great news & scoops, photos and in-depth articles!
Soap Opera Digest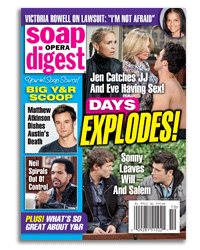 ---