PLEASE CLICK TO DONATE TO OUR SITE!!!!
One Life to Live Top Ten List
Top Ten Headlines Todd Could Use to Slam Blair by Debbie
10. Blair Cramer Claims 497 Pairs of Shoes as Dependents on Taxes; Audit Expected
9. Former Housekeeper Tells All: Blair Cramer Sleeps in a Coffin
8. Photo Radar Clocks Blair Cramer Doing 205 MPH in a School Zone
7. Blurry Image of Young Gun-Toting Blair Cramer Detected on Newly Enhanced Magruder Film
6. Riot Erupts at Llanview DMV When Blair Cramer Cuts in Line
5. First Human Case of Hoof and Mouth Disease Discovered: Blair Cramer
4. Llanview Cineplex Ejects Blair Cramer for Sneaking in Outside Snacks
3. Former Beatle Reveals: Blair Cramer Broke us Up, Not Yoko
2. Her Hairdresser Claims to Know for Sure: Blair Cramer is Bald as a Cueball
And, the number one headline Todd will use to slam Blair:
1. Satan Announces: I'm the Father of Blair Cramer's Baby
Back to the Main OLTL Top Ten Lists Page
---
Buy Soap Magazines
Go here for great news & scoops, photos and in-depth articles!
Soap Opera Digest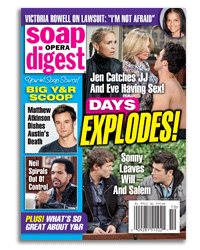 ---