PLEASE CLICK TO DONATE TO OUR SITE!!!!
This is just an unofficial fan page, we have no connection to "One Life to Live" or ABC.
PLEASE CLICK TO DONATE TO OUR SITE!!!!
One Life to Live Top Ten List
The Top Ten Things I Would Do
If I Were In Charge
by Sarah
5/29/06
Shoot Spencer
Make Natalie, Michael, and Paige Stop Whining
Get Dorian and David back together
Integrate Tess/Jess ,make her Jess with Tessí sarcasm, backbone, and love for Nash
Give us more R.J. and Lindsey
Show as much Todd and Evangeline as possible
Mend and Strengthen Bo and Rexís relationship
Wake Nora up or Kill her
Explore a relationship between Starr and Ricky
Get Adrianna off her high horse
Back to the Main OLTL Top Ten Lists Page
---
Buy Soap Magazines
Go here for great news & scoops, photos and in-depth articles!
Soap Opera Digest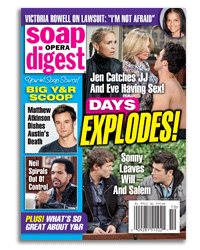 ---