PLEASE CLICK TO DONATE TO OUR SITE!!!!
One Life to Live Trivia Quiz
By Veronica (originally posted on our OLTL forum)

No multiple choice on this one.

1. When did One Life to Live first premiere?

2. Who was murdered on the first episode of OLTL and who was charged with the murder?

3. What was the original name of OLTL supposed to be?

4. Who is Max's real father?

5. Before leading roles in 'What's Love Got To Do With It?', and 'Event Horizon', he played Dr. Joshua Hall (1973-1976).

6. Before roles in 'Sleepy Hollow', and the giant-insect film 'Starship Troopers', he played Ty Moody (1993-1994).

7. What was Luna's real name?

8.Who was Viki's first born?

9. Besides David Fumero, who currently plays Cristian, who else has played the youngest Vega boy?

10. What year did Erika Slezak win her first Emmy for her portrayal of Victoria?
---
Back to the Main OLTL Trivia Quizzes Page
---
Buy Soap Magazines
Go here for great news & scoops, photos and in-depth articles!
Soap Opera Digest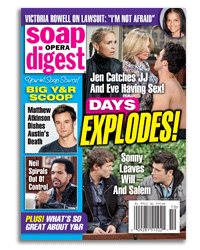 ---