PLEASE CLICK TO DONATE TO OUR SITE!!!!
One Life to Live Trivia Quiz
Quiz by Nathan
7/15/09
1. What is Rae Cummings profession?
a) Psychologist
b) Newspaper editor
c) Police officer
d) Lawyer
2. Which of the following characters was once mayor of Llanview?
a) Dorian Lord
b Asa Buchanan
c) Viki Lord
d) Bo Buchanan
3. Megan Gordon died in whose arms?
a) Viki Lord
b) Marty Saybrooke
c) Roger Gordon
d) Jake Harrison
4. Asa Buchanan was born and raised in what state?
a) North Carolina
b) Texas
c) Pennsylvania
d) Florida
5. Which of the following characters brainwashed Allison Perkins into doing his evil bidding?
a) Mitch Laurence
b) Asa Buchanan
c) Carlo Hesser
d) Spencer Truman
6. Who was originally going to be Langston Wilde's foster mother?
a) Viki Lord
b) Tea Delgado
c) Noelle Stubbs
d) Blair Cramer
7. Layla Williamson once started a fashion line with which of the following characters?
a) Evangeline Williamson
b) Blair Cramer
c) Adriana Cramer
d) Tate Harmon
8. Tea Delgado first came to town to defend who?
a) Antonio Vega
b) Christian Vega
c) Todd Manning
d) Dorian Lord
9. It is said that Bo Buchanan gave which rapper his big break?
a) Flo Rida
b) Snopp Dogg
c) Ludacris
d) Eminem
10. Who was first suspected of being the OPP killer?
a) Kirk Harmon
b) Tate Harmon
c) Rex Balsom
d) Ross Rayburn
Back to the Main OLTL Trivia Quizzes Page
---
Buy Soap Magazines
Go here for great news & scoops, photos and in-depth articles!
Soap Opera Digest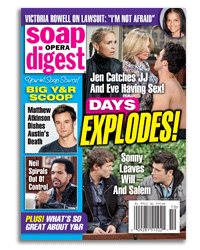 ---