PLEASE CLICK TO DONATE TO OUR SITE!!!!
This is just an unofficial fan page, we have no connection to "One Life to Live" or ABC.
PLEASE CLICK TO DONATE TO OUR SITE!!!!
One Life to Live Trivia Quiz
By Sarah 6/18/06
Who was Antonio married to when he went off the show for awhile?

A. Andy
Sonja
Jessica
Liz


When Tina fell for David, he was posing as what?

Asa's son
her half brother
a priest
a lawyer


Who was never a Doctor?

Mark Toland
Larry Wolek
Micheal Grande
Marcus Polk


Carlotta Vega is what relation to Antonio?

Mom
aunt
no relation
cousin


Which is Andrew Carpenter's sister?

May
Marsha
Karen
Maggie
---
Back to the Main OLTL Trivia Quizzes Page
---
Buy Soap Magazines
Go here for great news & scoops, photos and in-depth articles!
Soap Opera Digest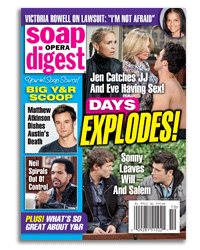 ---