PLEASE CLICK TO DONATE TO OUR SITE!!!!
One Life to Live Haiku
October 2002
By Beth and John
Some twenty years back
Viki gave birth to twin girls
How could she not know?
Jen's plan for revenge
Punish all who betrayed her
Her mother's daughter
Todd out of the way
Certain of his sex appeal
Sam tries to woo Blair
Washed up on Guam's shore
Todd makes it back to Llanview
Finds Blair in Sam's arms
Lindsay, hypocrite
Tells Jen revenge is no good
But Troy will now pay
Selfless act for Max
Roxy takes Luna's advice
Max returns favor
Offers of comfort
Who is Natalie's new friend?
Heed the Messenger
Suspicions aroused
Vega asks, "Who's the daddy?"
Liz lies through her teeth
In-crowd wannabe
Marcie changes Jen's due date
New maid of honor
Needing some answers
Viki visits Allison
Told, "Ask Mitch. Ask Mitch."
Back to the Main OLTL Haiku Page
---
Buy Soap Magazines
Go here for great news & scoops, photos and in-depth articles!
Soap Opera Digest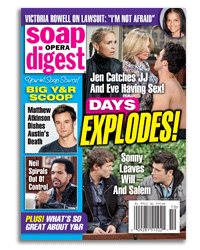 ---