PLEASE CLICK TO DONATE TO OUR SITE!!!!
One Life to Live Haiku
September 2002
By Beth and John
Near Tillie's throat-grip
Lindsay unjustly pardoned
Stupid governor
Sex with Al one day
Home pregnancy test the next
Jen, the clueless twit
Public announcement
Much more than friends and roommates
Bo melts Gabby's heart
In a stranger's arms
Antonio finds comfort
Future M-I-L
Craving Max's love
Roxy asks for Luna's help
From beyond the grave
Embryo transfer
Pregnant with her mother's child
By her fiance
Justice, Llanview style
Innocent people get shot
Criminals go free
Rex has a secret
Jessica is not his sis
Who gave birth to her???
Todd misses his kids
Sets out on a makeshift raft
Trying to get home
Cristian, Nat, and Al
Jen wants them all to suffer
Chip off the old block
Back to the Main OLTL Haiku Page
---
Buy Soap Magazines
Go here for great news & scoops, photos and in-depth articles!
Soap Opera Digest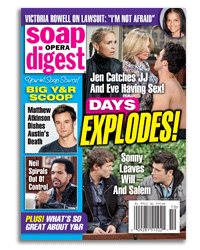 ---