PLEASE CLICK TO DONATE TO OUR SITE!!!!
One Life to Live Haiku
August 2002
By Beth and John
Natalie and Cris
Feelings they cannot deny
Jen out for revenge
Hulking, stalking fool
No redeeming qualities
Al the arsonist
Detective Vega
Job means more than fiancée
Broken engagement
Shot by Vega's gun
Ben says goodbye to Blondie
Bound for Swiss clinic
Bo blames Allison.
Who left Vega on the case?
Look in the mirror.
Allison Perkins
She could never have hurt Dave
Unlike his own wife
Bargain with R.J.
The judge learns all about Max
Roxy keeps her man
Forced to wed Gretel
Asa pays with his millions
She's still a damned quack
Change in the weather
No ship traffic for six months?
Ross has an angle.
Troy's wife Joanna.
What happened with Joanna?
Joanna, Troy's wife.
From Suzanne:
Al's a pyromaniac
Jen and his mom know
and Bo will find out
Rex is a schemer.
He likes to date the bad girls
And wants to fool Jess.
Back to the Main OLTL Haiku Page
---
Buy Soap Magazines
Go here for great news & scoops, photos and in-depth articles!
Soap Opera Digest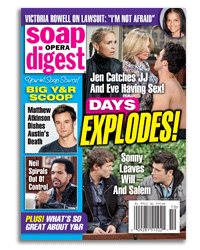 ---