PLEASE CLICK TO DONATE TO OUR SITE!!!!
One Life to Live Haiku
July 2002
By Beth
In Lindsay's big dream
Allison sings for her Dave.
Or is his name Ben?
An intact canoe.
Tea won't leave Todd to die.
Ross paddles away.
Nora is at Troy's.
He forcefully pleads with her,
Kiss the iguana.
Big, scary Tillie
Too much talk, not enough choke.
Would-be assassin.
Natalie's a wreck
Thinks she may have D.I.D.
Cristian's on the case.
Blair bares her body.
Troy insists she put on clothes.
Another failure.
My good friend Crabby
You are a great listener.
I cannot eat you.
Cristian, faithful friend
Boldly kisses Natalie
Changing ev'rything.
Gabrielle needs funds
Asa tries to set her up
Bo's onto his Pa
Escape from Stateville
Lindsay runs Nora off bridge
Troy to the rescue
From Suzanne:
Niki tries to kill
but gets frustrated again
and found out by Ben
Back to the Main OLTL Haiku Page
---
Buy Soap Magazines
Go here for great news & scoops, photos and in-depth articles!
Soap Opera Digest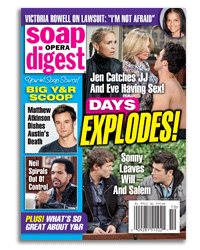 ---