PLEASE CLICK TO DONATE TO OUR SITE!!!!
One Life to Live Haiku
June 2002
By Beth
Hypoglycemic
Roxy taxes her system,
Collapses on floor.
Troy called in to help,
Tells Max sugar will kill her.
Max gives her donut.
Rae's seat by baby
And stinky sumo wrestler
Arranged by Asa.
Seth was once so tall
And what a nice guy he was!
Now he's a short punk.
Ben confronts Niki
Now he knows she's not Viki
Someone's gonna lose.
Murderous Niki
Pushes Ben through the window
Ben lies still, bleeding.
Don't call me Gretel!
Many bad things will happen
But only to me.
Blair tries to look "hot"
But when she opens her mouth
She scares Troy away.
Todd plans abduction
Aboard the Maui Princess.
It's all driftwood now.
Mollie and Shawna
Who could ever care for them?
Two peas in a pod.
From Suzanne:
Nat grows close to Cris
She cries on his strong shoulder
Jen rants jealously.
Back to the Main OLTL Haiku Page
---
Buy Soap Magazines
Go here for great news & scoops, photos and in-depth articles!
Soap Opera Digest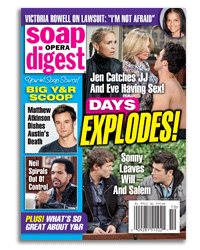 ---