PLEASE CLICK TO DONATE TO OUR SITE!!!!
One Life to Live Haiku
May 2002
By Beth
Ben's anger problem
Niki set him up but good!
Will he never learn?
Upset about Al
So drunk and out of control
Max took a new bride.
No drunken groom here.
Just a bride's taste in talk shows.
Roxy switched the tapes.
Todd would not hurt Starr.
Blair wants to keep them apart.
Which is the gecko?
Behind Capricorn
While Suzanne watches her kids
Blair tries to do Chad.
While in Las Vegas
Cristian ticks off an Elvis.
Cristian is out cold.
Natalie follows
Sees Elvis with a steak knife
Al to the rescue.
Starr should live with Troy.
She can keep him safe from Claire
And other nutjobs.
Troy could keep Starr safe
From her mother's wanton ways.
Doctor Troy's her friend.
Sputtering, spewing
All things are not yours to have
Neanderthal Al.
Back to the Main OLTL Haiku Page
---
Buy Soap Magazines
Go here for great news & scoops, photos and in-depth articles!
Soap Opera Digest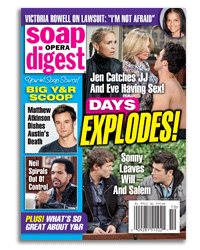 ---