PLEASE CLICK TO DONATE TO OUR SITE!!!!
This is just an unofficial fan page, we have no connection to "One Life to Live" or ABC.
PLEASE CLICK TO DONATE TO OUR SITE!!!!
One Life to Live Haiku
Favorite Soap Characters Haiku
By Laura
Sonny Corinthos
I live and die in your name
never leave P.C.!

Ned Ashton, you rock!
leather clad, wealthy, ruthless
Oh that Dimpled smile

Witty Luke Spencer
to feel the depth of your love
Forever my heart

Alexis Davis
the best of the Cassadines
Smart, warm, mother first

Todd Manning means depth
Always thinking; insightful
Must you really go???

Beware of those eyes
A force to be reckoned with
Max holds nothing back

McIver, be mine
Never underestimate
one who lives to heal

Attorney Nora
will never lie or betray
saint epitomized
Back to the Main OLTL Haiku Page
---
Buy Soap Magazines
Go here for great news & scoops, photos and in-depth articles!
Soap Opera Digest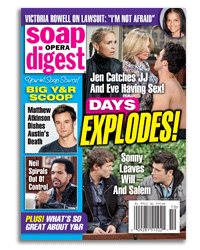 ---