PLEASE CLICK TO DONATE TO OUR SITE!!!!
One Life to Live Fan Fiction
Changes
Part 1
Todd's Story-his point of view
As I walked into town, I thought of my two kids, Starr and Jack, and how old they would be, and what they would look like now. It has been 5 years since I have walked these streets. I was anxious of what Blair would think of when she saw me. We left things so unsettled. I have to explain to her what happened to me all those years ago, and why I haven't been back. As I walked up to the house I peeked into the window, Blair was sitting on the couch watching television, as beautiful as ever. Thank God she was alone, because I wouldn't be able to walk back into her life if she had moved on.
I rang the doorbell, with an upset stomach. The ring echoed in the night. Blair answered the door. "Todd!" she exclaimed. "Oh Todd!" She was in utter shock. She hugged me like she did so many years ago. "Todd, I thought you were dead!" "What happened to you? " I had to collect my thoughts for a moment, and try to explain why it took me so long to come to this point in my life. "Let's sit down, it's going to be a while." She couldn't keep her eyes off of me. "I lost my memory after that bastard Lawrence put me in the coffin, I screamed until a stranger came and saved me." I had no idea who I was, because Mitch had knocked me out prior to putting me in the coffin, of course." She placed her hand in mine. "I woke up screaming, and a stranger saved me from the pits of hell." I sighed deeply.
"Mitch, moved me to a different location; as far away from Llanview as possible." I just had to gaze into her beautiful eyes and try to read what she was thinking.
"About a year ago, I started remembering bits and pieces of my life." I didn't want to tell her the truth, I have known for a while, but I was too scared to come see her.
"When my full memory finally came back, I couldn't wait to get back here and see you, and the kids."
"I immediately started looking for Lawrence, but I found out that he was dead." I looked at the ground. "I wanted to kill that bastard so badly myself." "I heard what he did to Jessica, you , and Dorian, and that's when I came home; to make sure that you are safe. " She was still looking at me, speechless.
"Blair, I have never stopped loving you, and I hope that you will take me back." I looked into her eyes, as she was smiling wildly. "I have changed so much, I promise you this time, no more lies; no more games."
"I swear upon my own life that I will protect you and the kids, as long as I live." she was still smiling. Her smile, still warmed my heart. She was the only person who made me realize that I had a heart.
"Todd, I love you, I have missed you so much over these years."
"Starr and Jack are going to be so happy." I leaned in , and kissed her like I never have before. "Where are the kids?" I asked. "They are asleep, Starr is 14 now, and Jack is 6."
"Jack reminds me of you, looking into his eyes pained me for so many years."
"Starr wouldn't speak to me for a long time , because she thought I was responsible for you not being here." I nodded, and explained that I would speak to her first thing in the morning. "Blair, I am exhausted, lets go to sleep."
"Ok, Todd, I love you." I was the happiest man in the world at that moment.
"Blair, I love you too." I kissed her passionately again, and we went upstairs to bed. A whole new life has begun, my life. My heart was happy, and at peace. I was home. Welcome home, Todd Manning, Welcome home.
Back to the Main OLTL Fan Fiction Page
---
Buy Soap Magazines
Go here for great news & scoops, photos and in-depth articles!
Soap Opera Digest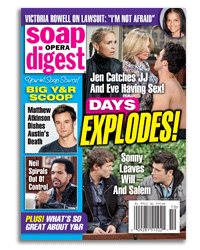 ---