PLEASE CLICK TO DONATE TO OUR SITE!!!!
Guiding Light Trivia Quiz
Trivia Quiz #9
Who am I?
by Elizabeth
2/11/05
A. Iíve been blind and helped teach someone to read. Iíve also gone by the alias of ĎSister Maryí and have been married four times.
B. I've gone by the name of Mr. Tashiway and was presumed dead from 1984 to 1986. I've served jail time for shooting two different people as well as hid more than one fugitive from the police.
C. I was classified as the Ďblack sheepí of the family for a long time. For a while I had a career as a music manager. After a car accident in which I hit a telephone pole I became temporarily paralyzed from the waste down. I also married a former wifeís sister.
D. My current adopted father is also my biological uncle. My former adoptive father was also my biological uncle. I was a very sick baby and my biological father (as well as my adoptive uncle) had to donate part of his live to save my life.
E. I was born onscreen in the Spring of 1993. Iím a mischievous person and ran away from home to live with my father. In the short time Iíve been on the show Iíve stolen from a hospital as well as been arrested for stealing a car.
F. Once I accidentally shot my wife. I was aiming for my brother. I have four children. I never got along well with my father-in-law, but my mother-in-law and I have a special relationship.
---
Back to the Main Guiding Light Trivia Quizzes Page
---
Buy Soap Magazines
Go here for great news & scoops, photos and in-depth articles!
Soap Opera Digest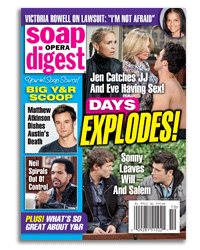 ---