PLEASE CLICK TO DONATE TO OUR SITE!!!!
This is just an unofficial fan page, we have no connection to "Guiding Light" or CBS.
PLEASE CLICK TO DONATE TO OUR SITE!!!!
Guiding Light Trivia Quiz
Trivia Quiz #6
by Elizabeth
1/20/05
Who are the biological parents of Gus Aitoro?
Who did Josh find out Annie was married to after he proposed to her?
Who killed Professor Blackburn?
Who killed Roy Meechum?
Who was Ross Marler's campaign manager when he ran for the Senate?
Who killed Ben Warren?
Who is Phillip Spaulding's only 'true' sibling?
Who was Prince Richard Winslow's assistant?
Who was Bill Lewis married to before Olivia?
Who is Alonzo Baptiste's biological brother?
---
Back to the Main Guiding Light Trivia Quizzes Page
---
Buy Soap Magazines
Go here for great news & scoops, photos and in-depth articles!
Soap Opera Digest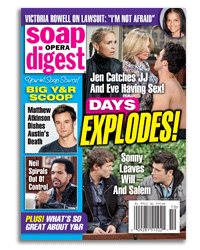 ---