PLEASE CLICK TO DONATE TO OUR SITE!!!!
This is just an unofficial fan page, we have no connection to "Guiding Light" or CBS.
PLEASE CLICK TO DONATE TO OUR SITE!!!!
Guiding Light Trivia Quiz
Trivia Quiz #5
by Elizabeth
1/20/05
What happened to Beth Rainesís biological father?
Who was Buzz Cooperís stalker?
What was the name of Nadineís talk show on WSPR?
Who are Ben Readeís biological parents?
Who killed Vinnie Morrison?
Who helped Max Nickerson escape from juvenile hall?
Who was Hope Bauerís only husband?
What is Blake Marlerís pen name?
Who was Hart Jessup married to at the time of his death?
Which member of the Spaulding family was arrested for prostitution?
---
Back to the Main Guiding Light Trivia Quizzes Page
---
Buy Soap Magazines
Go here for great news & scoops, photos and in-depth articles!
Soap Opera Digest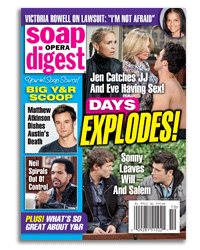 ---