PLEASE CLICK TO DONATE TO OUR SITE!!!!
This is just an unofficial fan page, we have no connection to "Guiding Light" or CBS.
PLEASE CLICK TO DONATE TO OUR SITE!!!!
Guiding Light Trivia Quiz
Trivia Quiz #4
by Elizabeth
1/20/05
Why did Billy Lewis spend time in jail?
What terminal disease did Susan Bates have?
Who killed Nadine Cooper?
Who did Blake have committed to a mental hospital in 1989?
Did Hampton Speakes own 'Heartbreakers' with Fletcher Reade?
Who was the justice of the peace at Phillip and Harley's wedding?
Who was Nola Reardon's older sister?
Who was Reva's first husband?
What name did Buzz Cooper use when he first arrived in Springfield?
What crime did Lillian Raines commit?
---
Back to the Main Guiding Light Trivia Quizzes Page
---
Buy Soap Magazines
Go here for great news & scoops, photos and in-depth articles!
Soap Opera Digest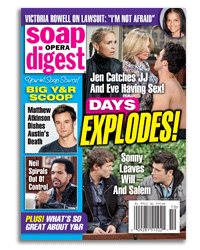 ---