PLEASE CLICK TO DONATE TO OUR SITE!!!!
This is just an unofficial fan page, we have no connection to "Guiding Light" or CBS.
PLEASE CLICK TO DONATE TO OUR SITE!!!!
Guiding Light Trivia Quiz
Trivia Quiz #3
by Elizabeth
1/20/05
Who shot Brent Lawrence?
What other name/personality did Brent Lawrence go by?
Who created Guiding Light?
Who was Ed Bauer's first wife?
How many biological kids does Harley have?
Although Phillip has been romantically involved with several women he only has 4 children. Of those 4 kids only 2 are real siblings. Which ones are 'real' siblings?
How did Ben Reade die?
What was Gus Aitoro's name before coming to Springfield?
Who was the Nursery Rhyme Stalker?
What was the name of the motel Tony and Marah ran off to on the night of Josh and Olivia's wedding?
---
Back to the Main Guiding Light Trivia Quizzes Page
---
Buy Soap Magazines
Go here for great news & scoops, photos and in-depth articles!
Soap Opera Digest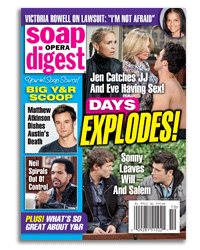 ---