PLEASE CLICK TO DONATE TO OUR SITE!!!!
This is just an unofficial fan page, we have no connection to "Guiding Light" or CBS.
PLEASE CLICK TO DONATE TO OUR SITE!!!!
Guiding Light Trivia Quiz
Trivia Quiz #23
by Elizabeth
11/23/05
Who was the first woman Roger Thorpe ever loved?

Holly Norris
Mona Enright
Peggy Fletcher


What was Lujackís pet name for Beth Raines?

Sweet Stuff
Hot Stuff
Blondie


Why did Ross shoot Blake?

He found out she lied to him.
He meant to shoot his brother.
He was drunk.


Gus examines Carmenís ashes after she Ďdiedí the first time. What was he shocked to find?

The ashes of another woman.
The ashes of her son.
The ashes of a dog.


Who left their wedding in a hot air balloon?

Quint and Nola
Josh and Reva
Reva and HB


Who was Frankís boss when he worked in the chop shop?

Cameron Stewart
George Stewart
George Cameron


Which of the following hasnít Edmund done to Cassie?

Kidnapped Tammy
Locked Cassie in a tower
Paid a doctor to inform Richard that he wasnít the father of Cassieís child.


How many children does Bea Reardon have?

5
6
7


What was Leslie Ann Andrews maiden name?

Monroe
Enright
Parker


Why did Jackie Marler divorce Justin Marler?

She was in love with Alan Spaulding.
Different interests.
He was cheating on her.
---
Back to the Main Guiding Light Trivia Quizzes Page
---
Buy Soap Magazines
Go here for great news & scoops, photos and in-depth articles!
Soap Opera Digest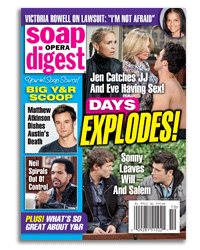 ---