PLEASE CLICK TO DONATE TO OUR SITE!!!!
Guiding Light Trivia Quiz
Trivia Quiz #22
by Elizabeth
12/5/05
1. Which one of the following isn't a character in Blake's newest book?
a. AC Hammer
b. Marley
c. Russ
2. What is the name of Harley's assistant at Spaulding Enterprises?
a. Sam
b. Steve
c. Shane
3. What was the drug that Edmund used to induce Michelle's labor?
a. Caprasin
b. Cyotec
c. Laprasin
4. Where is Ed Bauer currently working (as of September 2005)?
a. California
b. Washington DC
c. Africa
5. Who was last seen in Springfield on July 20th, 2005?
a. Nate Hoffer/Alfred Randall
b. Father Ray
c. Sebastian Hulce
6. Who was the first person to visit Harley in her Spaulding Office?
a. Shane
b. Alex
c. Beth
7. What is the name of Blake's newest book?
a. Lockdown Love
b. Lockup Love
c. Love in the Lockup
8. Who hasn't tried to convince Marina to stop looking for clues about Michelle's accident?
a. Michelle
b. Jonathan
c. Buzz
9. What is the name of the town that Sandy claims to have grown up in?
a. Shrewsbury
b. Shrewsport
c. Mill Town
10. Pick the one place where Danny and Michelle haven't gotten married.
a. Marble Falls
b. Laurel Falls
c. Bauer Backyard
---
Back to the Main Guiding Light Trivia Quizzes Page
---
Buy Soap Magazines
Go here for great news & scoops, photos and in-depth articles!
Soap Opera Digest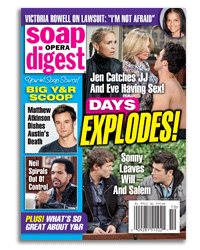 ---