PLEASE CLICK TO DONATE TO OUR SITE!!!!
This is just an unofficial fan page, we have no connection to "Guiding Light" or CBS.
PLEASE CLICK TO DONATE TO OUR SITE!!!!
Guiding Light Trivia Quiz
Trivia Quiz #17
by Elizabeth
8/5/05
At one time Drew owned this club.

Millenium
Infierno
Kieroygi

Drew's adopted father was a David Jacobs. He was a very famous and rich for what?

Being a writer
Being a screenwriter
Being a record producer

She once dated…

Sugar Hill
Mick Santos
Tony Santos

After finding out that her biological mother was Selena Davis, she searched for her biological father. He was…

Ben Warren
Buzz Cooper
Ross Marler

He's her cousin.

Jonathan Randall
Phillip Spaulding
Max Nickerson
---
Back to the Main Guiding Light Trivia Quizzes Page
---
Buy Soap Magazines
Go here for great news & scoops, photos and in-depth articles!
Soap Opera Digest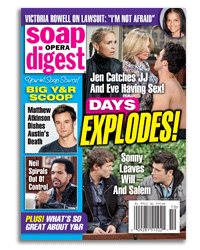 ---