PLEASE CLICK TO DONATE TO OUR SITE!!!!
This is just an unofficial fan page, we have no connection to "Guiding Light" or CBS.
PLEASE CLICK TO DONATE TO OUR SITE!!!!
Guiding Light Trivia Quiz
Trivia Quiz #16
by Elizabeth
7/25/05
Once and accomplished pianist.

Beth Raines
Marah Lewis
Mindy Lewis

Dated someone named 'Skunk' briefly.

Chelsea Reardon
Bridget Reardon
Lana Reardon

Once worked as a nanny for Marina Cooper.

Bridget Reardon
Lucy Cooper
Julie Camaletti

Once dated Kat Speakes.

David Grant
Brent Lawrence
Bill Lewis

Married once, she used to be the manager of Tony's Place.

Grace Middleton
Annabelle Sims
Susanna Hayden

Never married this hairdresser once dated Josh Lewis

Grace Middleton
Susanna Hayden
Lesley Monroe

Almost killed his father with a car.

Max Nickerson
Bill Lewis
Hart Jessup

A former assistant of Alex Spaulding, she contracted syphilis from her husband.

Jessie Matthews
Calla Matthews
Annabelle Sims

Ed Bauer's best friend from medical school.

Tom Reardon
Frank Nelson
Derek Colby

She was falsely accused of killing Charlotte Wheaton.

Jessie Matthews
Claire Ramsey
Maeve Stoddard
---
Back to the Main Guiding Light Trivia Quizzes Page
---
Buy Soap Magazines
Go here for great news & scoops, photos and in-depth articles!
Soap Opera Digest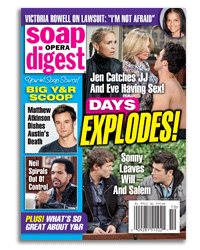 ---