PLEASE CLICK TO DONATE TO OUR SITE!!!!
This is just an unofficial fan page, we have no connection to "Guiding Light" or CBS.
PLEASE CLICK TO DONATE TO OUR SITE!!!!
Guiding Light Trivia Quiz
Trivia Quiz #14
by Elizabeth
6/22/05
At one time she intentionally tried to break up Harley's marriage to Phillip.

Beth Raines
Nadine Cooper
Susan LeMay
Harley Cooper helped raise her.

Marina Cooper
Michelle Bauer
Marah Lewis
He helped Buzz reunite with his children.

A.C. Mallet
Alan Spaulding
Billy Lewis
She has two sons and has been married three times.

Jenna Bradshaw
Selena Davis
Harley Cooper
Lucy's mother is –

Sylvie
Selena
None of the above
He and his father share the same middle name.

Frank
Buzz
Ian
Once owned an antique shop.

Jenna Bradshaw
Nadine Cooper
Harley Cooper
Nickname came from a character in a novel.

Alan Spaulding
Susan LeMay
Buzz Cooper
Her first marriage was to Alan-Michael Spaulding.

Harley Cooper
Eleni Andros
Jenna Bradshaw

Marina's cousin…

Henry Cooper
Susan Lemay
Lucy Cooper
---
ANSWERS
Back to the Main Guiding Light Trivia Quizzes Page
---
Buy Soap Magazines
Go here for great news & scoops, photos and in-depth articles!
Soap Opera Digest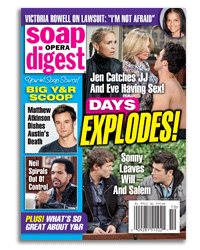 ---