PLEASE CLICK TO DONATE TO OUR SITE!!!!
This is just an unofficial fan page, we have no connection to "Guiding Light" or CBS.
PLEASE CLICK TO DONATE TO OUR SITE!!!!
Guiding Light Trivia Quiz
Marler Family Trivia Quiz #12
by Elizabeth
5/29/05
Ross cheated on his wife Blake with?
a. Vanessa Chamberlain
b. Tory Granger
c. Holly Reade

Justin Marler and Ben Warren are:
a. Father & son
b. Grandfather & grandson
c. Half brothers

Ross, Elaine and Ben all share the same:
a. Mother
b. Father
c. None of the above

How many Marler men has Blake had a relationship with?
a. 1
b. 2
c. 3

This Marler originally had hopes of becoming an Olympic athlete.
a. Samantha
b. Elaine
c. Dinah

She was married to Alan Spaulding.
a. Dinah
b. Samantha
c. Jackie

Samantha's grandfather was:
a. Dr. Emmett Scott
b. Ted White
c. Albert Franklin

Amanda Spaulding had an affair with this man:
a. Ross
b. Ben
c. Justin

This Marler used to work at the nightclub, Kiyogi.
a. Elaine
b. Dinah
c. Blake

He was married to both Blake Thorpe & India Von Halkein.
a. Ben
b. Phillip
c. Ross
---
Back to the Main Guiding Light Trivia Quizzes Page
---
Buy Soap Magazines
Go here for great news & scoops, photos and in-depth articles!
Soap Opera Digest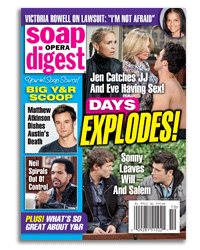 ---