PLEASE CLICK TO DONATE TO OUR SITE!!!!
This is just an unofficial fan page, we have no connection to "Guiding Light" or CBS.
PLEASE CLICK TO DONATE TO OUR SITE!!!!
Guiding Light Trivia Quiz
Trivia Quiz #32
By Elizabeth
3/13/07
Meg's father is Fletcher Reade. Who is her mother?

Hillary Bauer
Holly Norris
Maureen Bauer

Are Kevin and Jason Marler full biological twins?

No, they have different fathers.
No, they are simply brothers close in age.
Yes, they share the same parents.

Who is Lucy Cooper's biological mother?

Nadine
Sylvie
Selena

Clarissa and Dinah Marler are related how?

Full sisters, share the same parents
˝ sisters, share same dad
Step sisters, only related by marriage

Who is the father of Dylan Lewis?

Josh Lewis
Billy Lewis
Hawk Shayne

Peter Chamberlain was born to what woman?

Bridget Reardon
Nola Reardon
Vanessa Chamberlain

Frank Cooper's mother is who?

Nadine
Sylvie
Selena

Jonathan Randall was adopted by whom?

Richard Winslow
Alonzo Baptiste
Alfred and Marissa Randall

Who is Will Winslow's biological father?

Richard Winslow
Edmund Winslow
Alonzo Baptiste

Hawk is not the father of who?

Reva Shayne
Cassie Winslow
Roxie Shayne
---
Back to the Main Guiding Light Trivia Quizzes Page
---
Buy Soap Magazines
Go here for great news & scoops, photos and in-depth articles!
Soap Opera Digest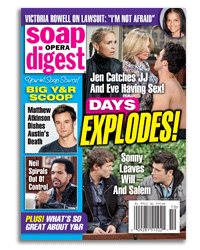 ---