PLEASE CLICK TO DONATE TO OUR SITE!!!!
This is just an unofficial fan page, we have no connection to "Guiding Light" or CBS.
PLEASE CLICK TO DONATE TO OUR SITE!!!!
Guiding Light Trivia Quiz
Trivia Quiz #27
by Elizabeth
2/21/06
Meg Reade was born with this disease.

Cystic Fibrosis
Autism
Down Syndrome


Alan-Michael Spaulding and Lucy Cooper got married here.

Disney World
Disney Land
Universal Studios


She was introduced as a new character in August of 1997.

Cassie Layne
Olivia Spencer
Annie Dutton


Ben Warren was introduced when he showed up as an attorney for this man.

Roy Meechum
David Grant
Roger Thorpe


Michelle Bauer lost her virginity to this man.

Mick Santos
Danny Santos
Jesse Blue


How did Michael Burke die?

Car Accident
Explosion
Murder via shooting


Jenna Bradshaw once thought she was a part of this Springfield family.

Chamberlain Family
Lewis Family
Bauer Family


Who helped Bridget Reardon deliver Peter?

Billy Lewis
David Grant
Nadine Cooper


Marina had surgery as a child on this part of her body.

Ears
Nose
Legs


Who was married on June 13, 1994?

Harley and Mallet
Blake and Ross
Eleni and Frank
---
Back to the Main Guiding Light Trivia Quizzes Page
---
Buy Soap Magazines
Go here for great news & scoops, photos and in-depth articles!
Soap Opera Digest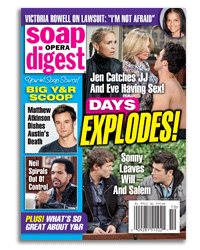 ---