PLEASE CLICK TO DONATE TO OUR SITE!!!!
This is just an unofficial fan page, we have no connection to "Guiding Light" or CBS.
PLEASE CLICK TO DONATE TO OUR SITE!!!!
Guiding Light Trivia Quiz
Trivia Quiz #31
By Elizabeth
1/30/07
This was the name of Johnny Bauer's TV Show.

Soul Mates
One on One
Two By Sea
Roger Thorpe wanted to demolish property on Fifth Street to build this.

Blakewood Towers
Thorpe Towers
T2
This is what killed Pops Cooper in January of 1990.

Natural Death
Fire
Murdered
This was the name of psychiatric hospital that Roger was once in.

Midland Hills
Ravenwood
Lake View Alternatives
This person made intimate photos of Blake and Ross available to the public.

Alan Spaulding
Holly Norris
Annie Dutton
Responsible for killing Sonni Carrera.

Solita Carrera
Josh Lewis
Will Jeffries
This person once caused the death of a person while DUI.

Annie Dutton
Ed Bauer
Holly Norris
This person suffered amnesia after falling down a flight of stairs.

Buzz Cooper
Reva Shayne
Eleni Andros
He killed Nicky Sutton.

Dylan Lewis
Rusty Shayne
Will Jeffries
She attempted to kill Reva Shayne by burying her alive.

Sonni Carrera
Solita Carrera
Annie Dutton
---
Back to the Main Guiding Light Trivia Quizzes Page
---
Buy Soap Magazines
Go here for great news & scoops, photos and in-depth articles!
Soap Opera Digest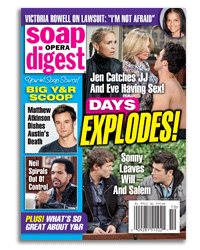 ---