PLEASE CLICK TO DONATE TO OUR SITE!!!!
This is just an unofficial fan page, we have no connection to "Guiding Light" or CBS.
PLEASE CLICK TO DONATE TO OUR SITE!!!!
Guiding Light Trivia Quiz
Trivia Quiz #25
Where in the World are they?
by Elizabeth
1/29/06
Which US State did Harley and Mallet live in, for the majority of the time that they were married?

Illinois

California

Florida

Indiana
Shayne decided to leave Springfield to run a mini Peace Corps. Where is he (and the mini Peace Corps) located?

Bosnia

Kosovo

Istanbul

Herzegovina
Dylan Lewis is currently married to Bridget Reardon and living out of state. Where do they currently reside?

St. Louis, Missouri

St. Paul, Minnesota

Minneapolis, Minnesota

Bangor, Maine
Roxie Shayne is confined to a psychiatric hospital in which US City?

Chicago

Dallas

Austin

Tulsa
This is where Gus and Harley went on their honeymoon.

Hawaii

Greece

Europe

Niagara Falls
Rob Layne does construction work in which of the following places?

Outside Springfield, Illinois

Chicago, Illinois

Texas

Alaska
Joey Lupo got driven out of town by Phillip Spaulding in 2004. When we last saw him what college was he headed to?

Boston University

Northeastern

Northwestern

McGill University
Ed Bauer is currently living and working where?

Louisiana

Mississippi

California

Africa
Nola Reardon moved away from Springfield in an attempt to reconcile with her daughter. Where did she move to?

Oklahoma

Chicago

Philadelphia

California
For some time Phillip, Beth and Lizzie all lived here.

Utah

Chicago

New Mexico

Arizona
---
Back to the Main Guiding Light Trivia Quizzes Page
---
Buy Soap Magazines
Go here for great news & scoops, photos and in-depth articles!
Soap Opera Digest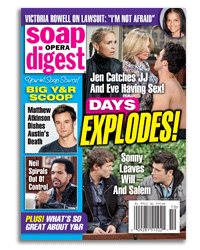 ---