PLEASE CLICK TO DONATE TO OUR SITE!!!!
This is just an unofficial fan page, we have no connection to "Guiding Light" or CBS.
PLEASE CLICK TO DONATE TO OUR SITE!!!!
Guiding Light Puzzle
Puzzle by Glynis!
Professor Blackburn Puzzle 8/31/05
Find the words in the grid. Words can go horizontally, vertically, and diagonally in all eight directions.

He is Phillip's father
She is Beth's mother
He taught this subject at the university
He shot this man
He worked here on the side
She found Blackburn's boat underwater
She hit him with a rock and killed him
He played the professor (2 words)
Philip brought India to this hospital
Neil was fired from here
He isn't alive anymore, he is ____
He lived in this city.
He hurt this woman, leaving her for dead
He took gold from this place
He gave the gold to the right person
Back to the Main Guiding Light Puzzles Page
---
Buy Soap Magazines
Go here for great news & scoops, photos and in-depth articles!
Soap Opera Digest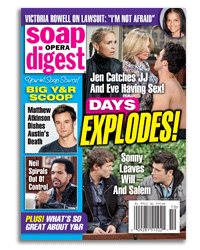 ---