PLEASE CLICK TO DONATE TO OUR SITE!!!!
This is just an unofficial fan page, we have no connection to "Guiding Light" or CBS.
PLEASE CLICK TO DONATE TO OUR SITE!!!!
Guiding Light Characters
William Richard Winslow
Played by Seamus Davey Fitzpatrick
Written by Elizabeth
Young Will is the son of Alonzo, the true heir to the throne of San Cristobel. Alonzo is Edmund's biological older brother who was declared dead and then secretly given away as an infant to be raised as a poor fisherman so that his father's illegitimate son, Richard, could be raised as the island's future ruler.
Will's mother Camille was a scheming but beautiful redhead. she first gave her son up for adoption to Richard and Cassie, then wanted him back once she learned her boy could make her First Lady of San Cristobel. Though Alonzo initially allowed Will to be raised by the Winslows of Springfield, he eventually decided he needed him back on the island for future-prince training. While in love with Cassie, Edmund promised to help her fight for her son but in reality was urging Alonzo to reclaim Will, so that Edmund could eventually swoop in and play hero.
In 2005, Cassie finally agreed to let young Will reside in San Cristobel and learn such vital monarch skills as jousting and ballroom dancing, on the condition that she could remain a part of his life. Since then, Cassie has visited Will on occasion.
Proofread by Laura on 10/25/10
Back to the Main Guiding Light Character Descriptions Page
---
Buy Soap Magazines
Go here for great news & scoops, photos and in-depth articles!
Soap Opera Digest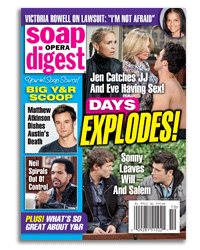 ---