PLEASE CLICK TO DONATE TO OUR SITE!!!!
Guiding Light Characters
Vincent "Vinnie" Salerno
Played by John Fiore
Written by Elizabeth
WORK:
Former mafia head in Springfield and New York City
ABOUT:
Tough man Vinnie Salerno appeared in town not long after Danny Santos got out of the mob. He made his presence known immediately and sent thugs after Danny's cousin and business partner. As a result, Danny agreed to give him all the Santos' illegal operations in exchange for staying out of Springfield.
Not long after this deal, it was revealed that Vinnie had previously dealt with another Springfield resident, Eden August.
Vinnie laid low for a while and reappeared when Danny decided to run for Mayor. He offered to finance the campaign and Danny refused. Later on that year, Danny was
forced to concede the election amid controversy that he had won under fraudulent circumstances. It was then that Danny went to work for him.
At the same time, Vinnie was harassing Eden, demanding that she break up with her then fiancée, Bill Lewis. He blackmailed her into being the pickup for a drug shipment although once she got the drugs she flushed them down the toilet instead of delivering them. This obviously angered Vinnie immensely.
In retaliation he ordered a hit on Eden and asked Danny to take care of it. There was a warehouse explosion and Eden was killed (or so it appeared). During an undercover operation not too long after, Vinnie was arrested on drug charges. He put two and two together and realized that Danny had been in on it from the start.
Currently, Vinnie's in prison though I doubt it's the last we've heard from him.
Proofread by Laura on 10/11/10
Back to the Main Guiding Light Character Descriptions Page
---
Buy Soap Magazines
Go here for great news & scoops, photos and in-depth articles!
Soap Opera Digest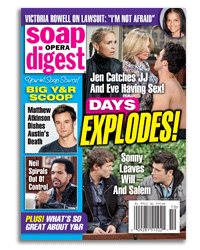 ---