PLEASE CLICK TO DONATE TO OUR SITE!!!!
This is just an unofficial fan page, we have no connection to "Guiding Light" or CBS.
PLEASE CLICK TO DONATE TO OUR SITE!!!!
Guiding Light Characters
Victoria Spaulding
Written by Elizabeth
PLAYED BY:
Karen Williams (March 1998 to September 1, 1998)
Victoria G. Platt (on contract, October 15, 1998 to October 13, 2000; recurring October 14, 2000 to August 30, 2001)
WORK:
Executive at Spaulding Enterprises
ABOUT:
Victoria Spaulding was brought to Springfield in 1998 as Vicky Brandon. She entered the fold as one of Michael Burkeís assistants in the human cloning storyline.
Victoriaís ultimate goal was to become rich and famous. This led Alan to take advantage of her. Together, the two of them tried to steal the renowned aging formula conceived by Dr. Burke. Regrettably, he died protecting it.
Soon after Michaelís death, it was revealed that Victoria was, in fact, part of the Spaulding family! She was the daughter of Brandon, which led to some serious changes around Springfield. Victoria demanded to be part of the Spaulding fortune despite the fact that her mother didnít think it was proper. When she began the push to be treated fairly amongst Brandonís children, she encountered a lot of trouble. Again, Victoria turned to corporate espionage to get what she wanted.
Her cousin, Phillip, then head of Spaulding Enterprises, forgave her. He realized that most of her actions were the result of her resenting a family that fully admitted they were ashamed of her.
Soon after Phillip gave Victoria a second chance, she vowed to remain loyal to her biological family. She did so until she left town following a break up with her then boyfriend, David Grant.
Victoria left Springfield in the summer of 2001. She headed to the one place she felt truly at home Ė the Tamerlaine/Spaulding estate in Barbados.
Proofread by Laura on 10/11/10
Back to the Main Guiding Light Character Descriptions Page
---
Buy Soap Magazines
Go here for great news & scoops, photos and in-depth articles!
Soap Opera Digest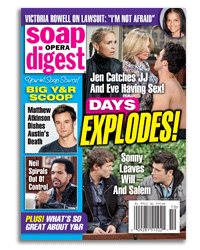 ---