PLEASE CLICK TO DONATE TO OUR SITE!!!!
This is just an unofficial fan page, we have no connection to "Guiding Light" or CBS.
PLEASE CLICK TO DONATE TO OUR SITE!!!!
Guiding Light Characters
Description by Elizabeth
Vanessa Chamberlain
PLAYED BY:
Anna Stuart (temporary replacement while Kinkead was on maternity leave; September 1, 1981 to December 23, 1981)
Sonia Stuart (temporary replacement, August 25 to 26, 1992; May 31, 1994)

Maeve Kinkead (June 2, 1980 to August 28, 1981; February 1, 1982 to December 31, 1987; July 14, 1989 to July 5, 2000; September 15, 2000; June 4 to June 10, 2002, April 2005)
WORK:
Shareholder in Lewis Oil
Shareholder in Spaulding Enterprises (she also has her late father's shares)
Former owner of WSPR
Founder of "Second Chances", a support group for women
Former president of Lewis Oil
Former president of Spaulding Enterprises
Former Executive Officer of Lewis Oil
Former vice president of development for Spaulding Enterprise
Former president of Spaulding Foundation
Former office assistant to attorney Ross Marler

KIDS:
Dinah Chamberlain Marler (with Ross)
Harlan Billy Lewis III AKA Bill (with Billy)
Peter Lewis (adopted son)
Maureen Reardon (with Matt)

ABOUT:
Vanessa is currently married to Matt Reardon; like all soap opera couples, their road to happiness was anything but easy.

She's a woman who has had relationships with many men, including an affair with Ross Marler. While with Ross, she had a child without telling him and then gave the little girl up for adoption. She was later reunited with her child, Dinah, although their relationship has been very volatile.

Vanessa also had an on-again, off-again relationship with Billy Lewis for many years. They too had a child, Bill Lewis III.

Vanessa originally came to town in 1980 with her father and stayed for eight years. She left for South America but then came back one year later.

At one time, she was diagnosed with a brain disease and faked her own death because she thought she would be a burden to her family. She moved to Switzerland for experimental treatment, and her disease went into remission. While in the Swiss convent, she was given a laptop and would frequent poetry chat rooms. She used the screen name Tess and became very close to a man in the chat rooms who used the name Robert. Eventually, she discovered that Robert was really her husband, Matt.


Matt tried to find her and thought that the only way he would be able to bring her home would be to finish building their dream home. He did, and the plan worked. Soon after returning to Springfield, Vanessa found out that she and Matt were going to have a baby. Fearing for the lives of both mother and child, they decided to terminate the pregnancy. At the last moment, the two had second thoughts and agreed to keep the baby.

Always wanting to help her family, she learned that her daughter Dinah was pregnant while on the run from shooting Hart. Vanessa gave up her life in Springfield and went to find Dinah in an effort to help her.
Later, Matt and Maeve returned to Springfield. They had a rocky relationship with her daughter, Dinah, especially after Dinah was shot in the head and had personality problems. Dinah slept with Matt, and that ended his relationship with Maeve. Maeve eventually forgave Dinah, but she and Matt divorced. At the end of the show's run, she remarried her ex-husband, Billy.
Page proofread by Laura 9/22/09
Back to the Main Guiding Light Character Descriptions Page
---
Buy Soap Magazines
Go here for great news & scoops, photos and in-depth articles!
Soap Opera Digest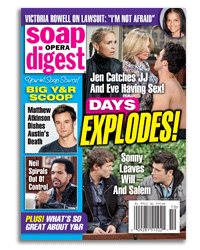 ---