PLEASE CLICK TO DONATE TO OUR SITE!!!!
Guiding Light Characters
Victoria "Tory" Granger
Played by Charissa Chamorro
Written by Elizabeth
WORK:
Former assistant to Ross Marler
Former Springfield University law student
ABOUT:
Tory Granger was, simply put, a crazy woman.
Not only did she arrange for a car accident to kill her husband Stewart Thompson but she also killed two classmates when she was a teenager.
Tory first appeared in Springfield as a student in Ross Marler's class. She told him a story about being a widow with financial woes, and he took pity on her; He even gave her a job as his assistant.
Tory began to fall head over heels for Ross, much to the dismay of his wife, Blake. Tory had elaborate fantasies where she married him. Delusional, she faked her own death so that she could then kidnap the only person who she thought stood in the way of her happiness with Ross, Blake.
A long storyline involved both Blake and Tory locking one another away and then getting stuck in a cell together.
Ross and Blake then devised a plan to get Tory to admit to all her indiscretions. She was eventually sent to a mental institution where she is still presumed to be.
Proofread by Laura on 10/11/10
Back to the Main Guiding Light Character Descriptions Page
---
Buy Soap Magazines
Go here for great news & scoops, photos and in-depth articles!
Soap Opera Digest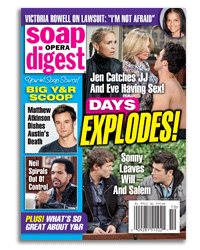 ---