PLEASE CLICK TO DONATE TO OUR SITE!!!!
Guiding Light Characters
Description by Elizabeth
Antonio "Tony" Santos
PLAYED BY:
Jordi Vilasuso (August 29, 2000 to October 3, 2003)
Stephan Martines (October 15, 2003 to present)
ROMANCE:
Marah Lewis (lovers)
Catalina Quesada (lovers; married at time of her death)
Eden August (one night stand)
Cheryl (dating)
Michelle Bauer Santos (dating)

WORK:
Former Employee of mobster Vinnie Salerno
Possibly owns a ranch outside Springfield
Partners with Danny Santos and Cassie Winslow in the Towers Club
Manager of Inferno
Briefly headed the Family Business
Former Employee at Lewis Construction

ABOUT:
Tony is a kind man with a good heart. He had a difficult childhood growing up in a family run by the mob. As a teenager and young man, Tony often felt as though he was competing with his older cousin, Danny; one of the key members in his family's business.
A man who falls in love hard, Tony's first love was with Marah Lewis. He originally began dating her with the hopes of seducing her, but as time went on he truly began to care for her. At one point he even decided to give up his life with the mob for her, which didn't work.
He's been married only once and that was when he thought his future wife was pregnant. He's a man whose heart is in the right place, and it seems as though he is still trying to find his place in the world.
He's a devoted brother to Father Ray and up until recently he was very close with his cousin Danny.
Tony was killed in 2005 after getting into a fight with his cousin Danny. They both fell off a cliff, Michelle was holding each one of them by a hand.
Realizing that she would always love his cousin, Tony decided to let go. Once emergency personnel got to him – it was too late. He was already dead.
Back to the Main Guiding Light Character Descriptions Page
---
Buy Soap Magazines
Go here for great news & scoops, photos and in-depth articles!
Soap Opera Digest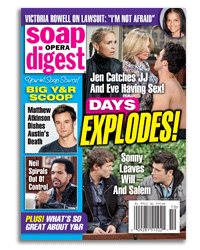 ---