PLEASE CLICK TO DONATE TO OUR SITE!!!!
This is just an unofficial fan page, we have no connection to "Guiding Light" or CBS.
PLEASE CLICK TO DONATE TO OUR SITE!!!!
Guiding Light Characters
Description by Elizabeth
Tammy Layne Winslow Randall
PLAYED BY:

Katie Sagona (August 1997 - July 2, 2002)

Stephanie Gatschet (Recurring, July 16, 2002 - October 2003; on contract, November 2003 - January 2007)
Tammy Layne was taken away from her parents after her father, Rob, was arrested for drug possession. Tammy was shuffled from foster-home to foster-home. Although she had some visits with her mother, Cassie, she waited for the day when they would be reunited permanently.
In 1997, when Tammy was seven years old, Cassie worked as a stripper to pay the legal fees necessary to fight for custody of her daughter. Tammy was kidnapped on three separate occasions. Once by Annie Dutton Spaulding, another time by Holly Lindsey-Reade, and a third time by her biological father, Rob Layne. Tammy also witnessed the death of Hart Jessup, her mother's fiancé and father of Tammy's half-brother RJ.
Tammy bonded with her stepfather Richard Winslow and took his death very hard. She was also equally shocked when Jeffery O'Neill came to town looking exactly like her deceased stepfather, Richard.
All in all, Tammy is a strong and independent young woman. After Dinah Marler (the woman who shot Hart) came to town, she had a hard time adjusting to Dinah's presence in town. She turned to the wrong person, who took advantage of her and who, unbeknownst to her, was also her cousin.
Tammy's first love was Joey Lupo, for whom Lizzie Spaulding also had feelings. Tammy believed that Joey was hers and bickered and fought with Lizzie to prove it. However, her true love and soulmate was a surprising person – Jonathan Randall. The two definitely had their ups and downs, though they always ended up in one another's arms.
It was a challenge for some people to accept their relationship; but as time wore on, the people of Springfield saw that they were meant for each another. Sadly, their future together was cut short when Tammy was killed just days after their wedding in January of 2007.
Proofread by Laura 1/5/11
Back to the Main Guiding Light Character Descriptions Page
---
Buy Soap Magazines
Go here for great news & scoops, photos and in-depth articles!
Soap Opera Digest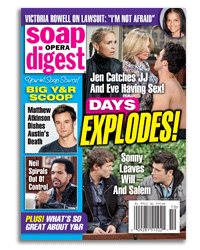 ---