PLEASE CLICK TO DONATE TO OUR SITE!!!!
This is just an unofficial fan page, we have no connection to "Guiding Light" or CBS.
PLEASE CLICK TO DONATE TO OUR SITE!!!!
Guiding Light Characters
Description by Elizabeth
Susan "Daisy" Lemay
PLAYED BY:
Brittany Slattery (recurring, August 24, 1989, September 10, 22 & 25, 1989, October 20, 24, 26, & 30, 1989; March 21 - 23, 29 - 31, 1994, April 1, 6 & 12, 1994)
Brittany Snow (December 3, 1998 to March 19, 2001; May 8, 2001)
Bonnie Dennison (January 10, 2007 to present)
WORK:
Former Student
Former Waitress at Petulia's (formerly Company)
ABOUT:
Susan didn't have an easy childhood. She was given up for adoption by her biological parents, and soon after was diagnosed with a rare form of diabetes. By the age of ten, she had she already had surgery on her pancreas.
After getting through all the medical crises in her life Susan was faced with another hardship. Her adoptive mother died. Susan desperately wanted a mother in her life and ran away to Springfield in order to find her biological mother. Luckily, her father was willing to let her get to know her true family.
Less than five years after moving to Springfield Susan was hit with another crisis. Her father, Jim Lemay, died in a fire. Unfortunately, the relationships that she had formed while in town were not strong enough to help see her through this rough patch. Susan understandably had a hard time with her grief and no longer wanted to spend time in Springfield.
Feeling out of place in town Susan headed to New York to attend college. It would seem by Susan's recent actions that she also didn't have an easy time at school either. She decided to go by her birth name of Daisy and also experimented with drugs.
Despite everything there is a sweetness about Daisy. She seems to truly care about Harley and her family. Unfortunately, due to her traumatic childhood she's having a hard time expressing that.
Back to the Main Guiding Light Character Descriptions Page
---
Buy Soap Magazines
Go here for great news & scoops, photos and in-depth articles!
Soap Opera Digest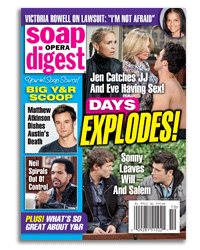 ---