PLEASE CLICK TO DONATE TO OUR SITE!!!!
This is just an unofficial fan page, we have no connection to "Guiding Light" or CBS.
PLEASE CLICK TO DONATE TO OUR SITE!!!!
Guiding Light Characters
Description by Elizabeth
Dr. Sonni Wells y Carrera
PLAYED BY:
Michelle Forbes (October 19, 1987 to November 30, 1989)
CHILDREN:

None

WORK:

Psychiatrist

ABOUT:

Sonni started out as what appeared to be a balanced young woman. She was introduced in 1987 after being wed to Josh Lewis. Unfortunately there was an accident on their honeymoon, and the new bride was presumed to be dead. When Sonni returned to her husband she was shocked to find out that things had not remained the same in her absence. Although she and Josh remarried, she met another man named Will Jeffries who changed her life forever.

The two began an illicit affair which was surprisingly the highlight of their conspiracy. Together the two plotted to not only kill Josh, but Reva Shayne as well. There was also a short time when Sonni thought she had killed Will. When he turned up alive, but with amnesia she decided to use her position as a psychiatrist to make sure that he couldnít remember how he had gotten where he was.

Despite all of this, as well as some other actions that many think qualifies Sonni for the looney bin, she always seemed like a decent person with a controlling streak. Her life and personality was also changed drastically by the men in her life. Both Will and her father manipulated her to get what they wanted, with no regard to her feelings whatsoever. This trait was merely used later in her life, to get what she wanted. Some may even say that she didnít know any better.

Last we heard from Sonni she was living and working in San Francisco, miles away from Springfield. This was her idea, in an attempt to help preserve her mental health.

Back to the Main Guiding Light Character Descriptions Page
---
Buy Soap Magazines
Go here for great news & scoops, photos and in-depth articles!
Soap Opera Digest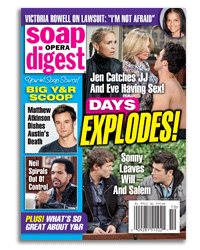 ---