PLEASE CLICK TO DONATE TO OUR SITE!!!!
This is just an unofficial fan page, we have no connection to "Guiding Light" or CBS.
PLEASE CLICK TO DONATE TO OUR SITE!!!!
Guiding Light Characters
Description by Elizabeth
Joshua Shayne Lewis
PLAYED BY:
Travis Cartier (February 19, 1990 to April 1991)
Brett Cooper (December 22, 1993 to April 29, 1997)
Garrett Stevens (July 4, 1997 to May 25, 1999)
Tony Michael Donnelly (October 14, 1999 to December 24, 1999)
Billy Kay (February 8, 2000 to January 24, 2003)
Marty West (February 14, 2003 to August 16, 2004)
WORK:
Runs a mini-peace corps in Bosnia
Student

ABOUT:
Shayne was a good kid, despite not having his mother around for the majority of his childhood. His mother returned to Springfield around 1995, but it took him about two years to really trust her again.

As Shayne got older, he vowed to make sure that his mother was happy, even if that include her and his father being apart.


As a teen in 2002, Shayne developed a serious crush on his friend, Marina Cooper. Despite the fact that she was dating someone else, he remained her friend through it all.

During high school he focused on getting a baseball career, and still had romantic feelings for Marina. Eventually the two began dating and things were going well until they got into a serious car accident. Shayne was temporarily paralyzed. Again, he and Marina remained close.


The two were happy with one another, until Shayne became restless. Always a good person, he wanted to help others. Needing a change in his life he started a mini 'Peace Corps' in Bosnia. He wanted Marina to come with him, but she couldn't bear to leave her family.

The last time we saw the lovable Shayne, he was boarding a plane for Europe.
Back to the Main Guiding Light Character Descriptions Page
---
Buy Soap Magazines
Go here for great news & scoops, photos and in-depth articles!
Soap Opera Digest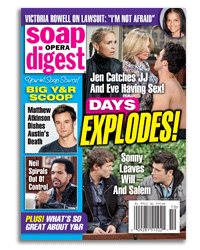 ---