PLEASE CLICK TO DONATE TO OUR SITE!!!!
Guiding Light Characters
Description by Elizabeth
Sebastian Hulce - Deceased
PLAYED BY:
Doug Hutchison (September 28, 2004 to present)
ROMANCE:
Holly Reade (kissed)
ABOUT:
Sebastian surprised his sister, Blake when he arrived in Springfield in the fall of 2004. She had been expecting her father, but he showed up instead, and with some saddening news about their father. From his first day in Springfield, Sebastian has been a true man of mystery. He thought it was important he track down some coins his father had given to those he had cared most about in town. Later we found out it was all a ruse to try and get a vaccine 'recipe' from Ed Bauer.
Sebastian, like his father, suffered from a brain disease that made him susceptible to headaches and fits of rage.
While keeping Holly captive, it was obvious that there was a connection between the two of them. At one point they even kissed.
An intense man, Sebastian was thought to have died on his way back to Springfield with Holly. Eventually he returned, with a new look and a supposed new outlook on life. Claiming that the near death experience has had an impact on him, he's trying to win back the trust of his family and start a new life.
He's recently teamed up with Alan Spaulding and is working as co-president of Spaulding Enterprises with Olivia Spencer Lewis.
Back to the Main Guiding Light Character Descriptions Page
---
Buy Soap Magazines
Go here for great news & scoops, photos and in-depth articles!
Soap Opera Digest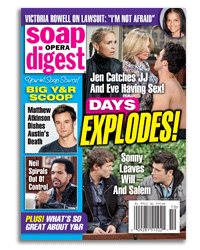 ---