PLEASE CLICK TO DONATE TO OUR SITE!!!!
This is just an unofficial fan page, we have no connection to "Guiding Light" or CBS.
PLEASE CLICK TO DONATE TO OUR SITE!!!!
Guiding Light Characters
Description by Elizabeth
Sarah Randall
PLAYED BY:
Julianna and Alyssa Calvoni (2006 to January 2007)
ABOUT:
Sarah Randall was a sweet little girl born to Lizzie Spaulding and Jonathan Randall. Named after her maternal great grandmother, Sarah was loved by all during her short time in Springfield. In fact, there were a great many fights over who should have custody of her.
Sadly, she was involved in a car accident following a funeral with her father. The two of them plummeted off a cliff, presumably to their deaths.
Only a day later it was revealed to the audience only that Sarah and Jonathan were alive. Jonathan decided to take his daughter somewhere that she could be safe, and raised by a loving family – away from the Spauldings.
Back to the Main Guiding Light Character Descriptions Page
---
Buy Soap Magazines
Go here for great news & scoops, photos and in-depth articles!
Soap Opera Digest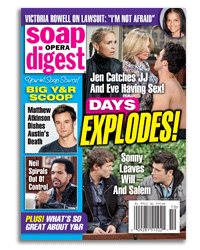 ---