PLEASE CLICK TO DONATE TO OUR SITE!!!!
Guiding Light Characters
Description by Elizabeth
Sandy Foster - Deceased
PLAYED BY:
Scott Bailey (recurring, March 2003 to August 15, 2003, voice only; On contract, August 20, 2003 to present)
First arrived on Guiding Light: 2003
WORK:
Student at Springfield University
College Radio DJ
Employee at Lewis Construction
Employee at Spaulding Enterprises
Employee at WSPR
ABOUT:
Sandy was originally in Springfield as a sort of "shock jock" on a Springfield University radio station with the show "Sandy and the Mole." After meeting Marah Lewis, the two became friends, fighting the university to keep Sandy's radio show on the air and putting together Marah's Winter Wonderland fashion show. Eventually, Sandy revealed himself to Reva as her son, Jonathan, which created all kind of tension between Marah and him, as well as the rest of the family.
Since his arrival in Springfield, a lot has happened to Sandy. It was revealed that Sandy was not Reva's son, Jonathan, but a friend of his from school.
Although Sandy originally appeared in Springfield as part of a lie, he's an all-around good guy. His lies to Reva were never about the money, but more about finding a family and people to love him. Sandy realized how much hurt he had caused the Lewis family and tried to regain their trust.
Sandy was a man with a good heart who truly cares about those around him. He will go to great lengths to protect those he loves; even if it is not beneficial to him.
However, when he lost the one woman he thought he truly cared about in 2006, Sandy lost it. He became vengeful and deceitful, and he even stalked his former fiancÚ to get what he wanted.

Unfortunately, Sandy was involved in a fight with Jonathan and Tammy in March, 2006. During that fight he was accidentally knocked off the side of the cliff and died.
Sandy was a great character, but the writers ruined him by constantly changing him and his motives, until they finally just got rid of him.
Page proofread by Laura 12/15/09
Back to the Main Guiding Light Character Descriptions Page
---
Buy Soap Magazines
Go here for great news & scoops, photos and in-depth articles!
Soap Opera Digest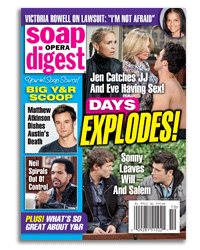 ---