PLEASE CLICK TO DONATE TO OUR SITE!!!!
This is just an unofficial fan page, we have no connection to "Guiding Light" or CBS.
PLEASE CLICK TO DONATE TO OUR SITE!!!!
Guiding Light Characters
Description by Elizabeth
Russell "Rusty" Shayne
PLAYED BY:
Terrell Anthony (late 1986 to December 22, 1989; August 1990; November 27 to December 3, 1996; April 23, 1997; September 11, 1997; July 2, 1998; May 20th to May 24, 1999; July 2000; June 7 to 11, 2002; December 22 & 23, 2005)
WORK:
Chief of police
Former private investigator
Former police officer in Springfield PD

ROMANCE:
Rose McLaren (married, deceased)
Mindy Lewis (dated)
Dana Jones (flirted with; deceased)

ABOUT:
Though Rusty was a bit of a troublemaker as a teen, he seemed to settle down a bit after arriving in Springfield. He got a job as a cop and worked hard to find out who the spy inside the Lewis Family was.
While working as a police officer, he met and fell in love with Rose McLaren. The two were soon married and deeply in love. Sadly, in 1989, Rose died in an accident during an argument involving Will Jeffries. Rusty was devastated, and he left Springfield so that he could move on with his life. He supposedly moved to Tulsa.
Since then, Rusty has made sporadic appearances in town for weddings, funerals, and the occasional holiday.
Page proofread by Laura 12/15/09
Back to the Main Guiding Light Character Descriptions Page
---
Buy Soap Magazines
Go here for great news & scoops, photos and in-depth articles!
Soap Opera Digest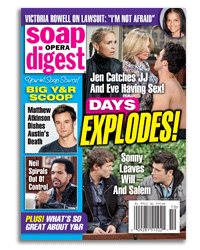 ---