PLEASE CLICK TO DONATE TO OUR SITE!!!!
Guiding Light Characters
Description by Elizabeth
Roxanne "Roxie" Shayne
PLAYED BY:
Kristi Ferrell (September 1984 to May 1988)
WORK:
Former waitress at the nightclub Kiyogi
Former employee at Company
Formerly Billy Lewis' assistant at Lewis Oil
ABOUT:
Roxie is the youngest child of Hawk and the late Sarah Shayne. She grew up in Oklahoma, and her childhood was anything but easy.
In 1984, when we first met Roxie, she was living with an abusive boyfriend. This angered her older sister, Reva, who requested that Roxie join her in Springfield.
Though her move to town was supposed to help balance and to straighten out her life, it didnít work that way at all. She met a man who began to blackmail her about her life in Oklahoma. She also regained some childhood memories and discovered that she had been raped when she was only 12 years old.
In 1985, Roxie suffered amnesia while on a snowmobile in Alaska. The only place that she could find help was in a nearby brothel. The owner offered her a job, and Roxie (now known as "Rosie Cheeks") began working as a prostitute.
Eventually, with the help of Rick Bauer and Reva, Roxie returned to Springfield. She had regained her memory and became close to Rick Bauer. The two broke up when the rigors of medical school became too much for the two of them to handle together.
A few years later, Roxie met Johnny Bauer, and the two fell in love. There was a lot of drama surrounding their relationship at first; however, the two eventually became engaged. Roxie and Johnny were happy with one another until he was diagnosed with cancer. This threw Roxie for a loop, and she had a mental breakdown.
Roxie was institutionalized in Europe in 1988. A couple of years later, in 1990, it was mentioned that Roxie had been transferred to a psychiatric hospital in Tulsa.
The last we heard from her, Roxie was living in an extended care facility by herself. She was writing again, and she had improved drastically. This was in 1999.
Roxie was a great character. She was very lively, even though she was portrayed as mentally unstable. Considering what she had dealt with in her tumultuous life, it's not surprising that she had problems dealing with it all.
Page proofread by Laura 12/15/09
Back to the Main Guiding Light Character Descriptions Page
---
Buy Soap Magazines
Go here for great news & scoops, photos and in-depth articles!
Soap Opera Digest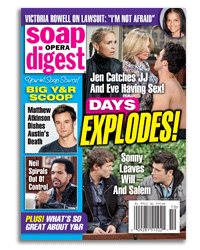 ---