PLEASE CLICK TO DONATE TO OUR SITE!!!!
Guiding Light Characters
Description by Elizabeth
Ross James Marler, Esq. - DECEASED
PLAYED BY:
Jerry verDorn (March 23, 1979 to present)
Lewis Art (temporary replacement spring 1993)
WORK:
Mayor of Springfield
Lawyer
Former law professor at Springfield University
Former Springfield District Attorney
Former candidate for Senate
Former co-owner of WSPR-TV
Former President of Spaulding (very briefly)
Former partner in Los Tres Amigos

CHILDREN:
Dinah Marler (with Vanessa)
Kevin Ross Marler (with Blake)
Jason Frederick Marler (with Blake)
Clarissa Marler (with Blake)

ABOUT:
When Ross first came to Springfield, he was a lawyer whose job was to defend Roger Thorpe when Holly charged him with rape.
Ross has had two major loves in his life, Vanessa Chamberlain and Blake Thorpe. There were other wives and relationships, but those are the two most important women to hime. They also gave him children. His marriage to Carrie Todd ended when it became apparent that she had multiple personality disorder.
His relationship with Blake was rocky. At one point, she cheated on him with Rick Bauer because she thought he had something going on with Amanda Spaulding. She became pregnant, and at one time there was speculation that one or both twins might not be Rossí.
After her indiscretion with Rick, Ross forgave his wife. Again she cheated on him, this time with his brother. This relationship had an interesting result. Ross walked in on his wife and brother and, thinking Blake was under attack, picked up a gun to shoot his brother. He ended up hitting Blake instead. He then left her. She left town for a short while to work on her career as a romance novelist. Ultimately, Ross tracked her down and found out she was pregnant with his daughter, Clarissa.
Ross is a caring father. He stood by his children, no matter what. More recently, he staged an intervention for his oldest child, Dinah. The two have always been close, mainly because she blames her mother and not her father for being given up for adoption.

In April of 2006, Ross was traveling home from Washington DC to see his wife and to meet with Alan-Michael Spaulding when the plane crashed. Ross' body was not found, however.
Ross had been flying home with a young woman named Nicole, which led to brief speculation that they were having an affair. However, she was a private eye that he had hired to track down Phillip. He knew that Phillip was alive. Phillip sabotaged Ross' plane so that he could get away, expecting Ross to be delayed. Instead, Ross went up in the damaged plane and that's why it crashed. Blake mourned his death for a long time.
Page proofread by Laura 12/8/09
Back to the Main Guiding Light Character Descriptions Page
---
Buy Soap Magazines
Go here for great news & scoops, photos and in-depth articles!
Soap Opera Digest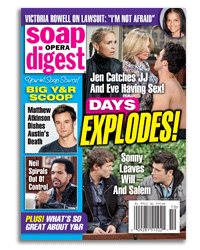 ---