PLEASE CLICK TO DONATE TO OUR SITE!!!!
Guiding Light Characters
Description by Elizabeth
Roger Adam Thorpe - Deceased
PLAYED BY:

Michael Zaslow (April 1, 1971 to September 25, 1971; August 1972 to July 1975; December 1975 to May 20, 1977; July 3, 1978 to April 1st, 1980; February 15, 1989 to April 23, 1997)

Joel Fabiani (Temporarily filled in for an ill Zaslow. August 1992, January to February 1994)

Dennis Parlato (May 1, 1997 to March 16, 1998)
CHILDREN:
Sebastian Hulce (with unknown woman)
Christina Blake Thorpe Marler (with Holly)
Hart Jessup (with Laura; deceased)
Tangie Hill (legal ward)
Unnamed miscarried child (with Mindy)
Unnamed miscarried child (with Jenna)
WORK:
Executive at Spaulding Enterprises
Former Vice President of Advantage Systems
Former President of Spaulding Enterprises
Former Vice President at Spaulding Enterprises
Former co-owner WSPR-TV
Formerly a secret agent for the U.S. government
Former owner of a nightclub, Metro
former employee of Cyrus Granger in Texas
Former President of Stanley Norris' New York headquarters
ABOUT:
Roger Thorpe was one of those characters that you loved to watch, even if he was being evil. He was very evil, although he had a soft side for his daughter, Blake (whom he referred to as 'Chrissy').
Roger often did exactly what he wanted, regardless of the consequences. He was ruthless and vindictive, a man that you certainly didn't want to cross.
Always wanting more, Roger was never happy with what he had. It may have had something to do with the fact that his father made him constantly feel like a disappointment.
The major woman in his life was always Holly Norris. Their relationship seemed doomed, and he even kidnapped and raped her at one point. Despite their relationship being anything but normal, Holly put it best in the fall of 2004 when she explained that "good or bad, Roger has a hold over me".
He was by far the best villain in Springfield, possibly in all of daytime television. His abrupt death in September of 2004 was shocking for many Springfield residents, despite that he had not been seen around for seven years.
Page proofread by Laura 12/8/09
Back to the Main Guiding Light Character Descriptions Page
---
Buy Soap Magazines
Go here for great news & scoops, photos and in-depth articles!
Soap Opera Digest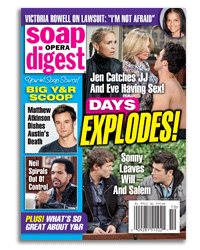 ---