PLEASE CLICK TO DONATE TO OUR SITE!!!!
Guiding Light Characters
Description by Elizabeth
Dr. Frederick "Rick" Bauer, MD
PLAYED BY:
Albert Zungalo III (1970 to 1971)
Gary Hannoch (1972 to 1976)
Robbie Berridge (1976 to 1978)
Phil MacGregor (November 1982 to May 1983)
Michael O'Leary (June 6, 1983 to December 1986; July 1987 to February 20, 1991; March 1995 to present)
WORK:
Medical Examiner
Doctor at Cedars Hospital
KIDS:Jude Cooper Bauer (with Harley)

Leah Bauer (with Mel)
ABOUT:
Rick's parents are Ed and Leslie Bauer. He was one of the original 'Musketeers', along with Phillip Spaulding, Mindy Lewis and Beth Raines.
Rick has a habit of falling in love, or into bed, with some of his best friends. He fell hard for Mindy Lewis, Beth Raines and Roxie Shayne. He also had one-night-stands with both Harley Cooper and Blake Marler.
Rick has also been best friends with Phillip Spaulding since they were kids. He took Phillip's November 2004 death very hard. He ended up turning to Beth Raines in an attempt to get over the loss. While he was bonding with Beth, he was also growing apart from his current wife, Mel Boudreau. She didn't like some of the things that Phillip did while he was alive, and he had a hard time getting over them. It took quite a while for the two to mend the problems in their relationship.
Rick has also been close with his sister, Michelle. Although he has never really like his brother-in-law, Danny, he recently has had to side with him. After an accident that left Michelle with amnesia, she was not herself. This was difficult for everyone in her family. Eventually, she regained her memory and left town with Danny and their child.
Rick received a heart transplant on the same day he married his wife and co-worker, Mel Boudreau. Always a giving person, Rick actually turned his first chance at a transplant down. When a heart came up, he pretended to have a fever so that a man with a child would receive the heart instead. Mel was originally furious at him, but she forgave him. At the last minute, Richard Winslow died and saved Rick by donating his organs, including his heart. It was difficult for Rick, and for Richard's family, living in the same town.
Rick and Mel were divorced. Rick married Beth briefly, when he thought she gave birth to his child, but he later found out it was Alan's.
Page proofread by Laura 8/25/09
Back to the Main Guiding Light Character Descriptions Page
---
Buy Soap Magazines
Go here for great news & scoops, photos and in-depth articles!
Soap Opera Digest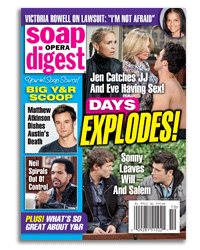 ---