PLEASE CLICK TO DONATE TO OUR SITE!!!!
This is just an unofficial fan page, we have no connection to "Guiding Light" or CBS.
PLEASE CLICK TO DONATE TO OUR SITE!!!!
Guiding Light Characters
Description by Elizabeth
Reva Shayne Lewis
PLAYED BY:
Kim Zimmer (November 28, 1983 to July 23, 1990; April 25, 1995 to present)
WORK:
Telejournalist at WSPR
Host of TV talk show on WSPR-TV
Worked at Lewis Oil
Former Nurse's Aide
Former Photographer

KIDS:
Dylan Shayne Lewis (with Billy Lewis II)
Unnamed miscarried child (with H.B.)
Marah Lewis (with Joshua)
Shayne Lewis (with Joshua)
Jonathan Randall (with Prince Richard)


ABOUT:
Kim Zimmer is the only actress that has portrayed the spunky Reva Shayne. She joined the show in 1983 and left 7 years later only to return again in 1995. She is one of those actresses who makes you wonder what the show would be without her.
The character of Reva has one odd quirk, if you will. She has been married to all the Lewis men (HB and his sons). Josh has always been her one true love though.
Together, they have spent many happy moments up at the site of their first wedding, Cross Creek.

She has a full brother and sister (Roxie & Rusty) as well as a half-sister Cassie. Since Cassie is the only one left in Springfield, it would seem that she is most close with her. Or at least they used to be. Since Reva's son Jonathan came back to town and hurt Tammy (Cassie's daughter), there has been a definite strain in their relationship. In another odd quirk,
Reva was also married to her sister's late husband, Richard and they even had a child together.

Some of the most famous storylines of GL history have involved Reva. There was the time she had a clone, could read minds, traveled in time through a painting, was Amish for a while, pulled the plug on her brother-in-law ultimately killing him, and was also a Princess for a short bit as well. And what long-time GL viewer could forget her famous 'Slut of Springfield' speech? She's definitely had a colorful past.
Back to the Main Guiding Light Character Descriptions Page
---
Buy Soap Magazines
Go here for great news & scoops, photos and in-depth articles!
Soap Opera Digest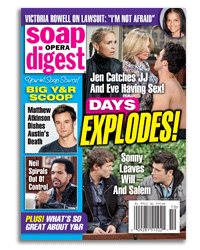 ---