PLEASE CLICK TO DONATE TO OUR SITE!!!!
This is just an unofficial fan page, we have no connection to "Guiding Light" or CBS.
PLEASE CLICK TO DONATE TO OUR SITE!!!!
Guiding Light Characters
Description by Elizabeth
Remy Boudreau
PLAYED BY:
Corey Parker Robinson (August 28, 2001 to April 4, 2002 [recurring])

Gavin Alexander Houston (May 14, 2002 to Summer 2005 [recurring])

Lawrence Saint-Victor (April 7, 2006 to September 18, 2009 [recurring]) First arrived on Guiding Light: 2001

ROMANCE:
Tammy Winslow Randall (dated; deceased)
Natalia Rivera (dated)
Lola (dated)
Ava Peralta (one-night stand)
Christina Moore (divorced) [married: Nov 17, 2008; divorced: Feb 9, 2009]

CHILDREN:
Max Harlan Lewis (with Ava; deceased)
Clayton Boudreau (with Christina)


WORK:
Student at Springfield University
Police officer at the Springfield PD
Former emergency medical technician
Former security guard at the Spaulding mansion
Former Police officer with the Springfield PD


ABOUT:
College student and dorm advisor Remy Boudreau was a bright kid with a strong sense of himself and a strong sense of decency. An outgoing guy, he made friends easily and was also willing to help the underclassmen that needed it. Perhaps the only person Remy couldn't get along with was his own father, Dean of Students Clayton, who demanded excellence from everyone especially his children. Remy was a talented singer/songwriter, but Clayton wanted him to pursue an academic dream. Resentful of his father's expectations, Remy distanced himself emotionally from him. In 2002, he finally accepted his sister's love for Rick Bauer but thought that people might believe Mel received a promotion at work only because she was dating her boss. In 2004, Remy was on hand to help his friend, Tammy Winslow, he offered to take Tammy to the summer dance when her current boyfriend, Joey, broke up with her.
Back to the Main Guiding Light Character Descriptions Page
---
Buy Soap Magazines
Go here for great news & scoops, photos and in-depth articles!
Soap Opera Digest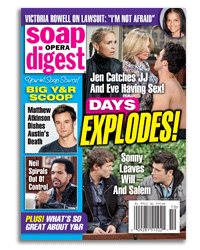 ---